What you're looking at above is the superior aspect of a human cranium, i.e. the top of someone's head.
If your first thought was 'holy hell, what happened to that poor guy?' well done. You have the makings of a human osteologist.  The answer is what forensic anthropologists and bioarchaeologists call sharp force trauma, or when a sharp object injures tissue.  This unfortunate fellow was most likely the victim of a broadsword attack.
There are several types of trauma that we can see in human bone. When the injury is caused by a blunt object we call it blunt force trauma.  When the injury is caused by a projectile, like a bullet, we call it projectile trauma.  Pretty self explanatory.
Trauma is classified as antemortem (before death), perimortem (at the time of death), or postmortem (after death).  We can tell when an injury occurred by looking for remodeling, by looking at the manner in which the bone was broken, and by the colouration of the trauma itself.
Remodeling, which is the term for bone healing, will only be present in antemortem injuries.  If we can see remodeling, the injury must have happened before death.  This is the reason why doctors must set bones.  Bones are smart and will try to heal themselves, even if they are no longer aligned. So we find individuals with bones like this:
We can also look at how the bone actually broke. The bones in living bodies, which are considered wet bone, react to force differently than long dead bone, or dry bone.  When we see fractures that could have only happened to wet bone, we know that the trauma was antemortem or perimortem.  Greenstick fractures are an excellent example of this.  Much in the same way that a stick is easier to break in half if it's dead, so is bone.  The wet, fragmented bone will stick together like a twig from a living tree.
(Access the original image and some complicated reading on trees here)
Here you can see a greenstick fracture of the fibula (original image)
Comminuted fractures are another good example. This is when a fracture contains multiple fragmented pieces of bone. Below is an example of a comminuted fracture created by blunt force trauma.
This would never happen to dry bone, as it would simply shatter the skull.
In less clear cases, we can look for differences in the colouration of the fracture and the surrounding bone.  If the fractured area is lighter, it usually means that it has not been exposed to the elements as long and has therefore occurred after death in the grave or after excavation.  When damage happens after a person has been buried it's called the taphonomic process, when it happens after excavation we call it students.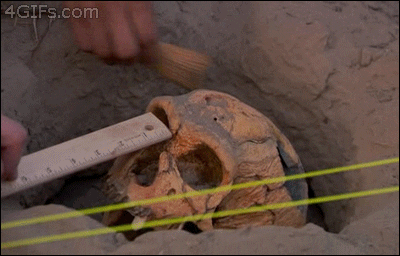 For more information about skeletal trauma, as always, feel free to comment or follow up in a message!